I quickly grabbed our backpacks and ensured the first feet to touch shore were ours. I couldn't get away from the boat fast enough. For 2.5 hours, our little boat zipped through the turbulent ocean, zig-zagging left to right to avoid the swells as skillfully as it could. The maybe-not-so-careful maneuvering techniques did nothing to stop half of the passengers from being sick or scared for their lives. The Balinese are famous for their 'It's-safe-until-it's-not-safe' carefree attitude that terrifies westerners (myself included). But, we arrived safely.
I marched off the rickety pier, swinging Lilith over all the huge gaps and holes, over the crystal blue water and white sand, onto the broken asphalt trails that tried to serve as roads. We walked past carts pulled by foam-mouthed donkeys intended to escort us. Aside from the poor, malnourished donkeys, the only other mode of transport on Gili Air is bicycle. So, we walked.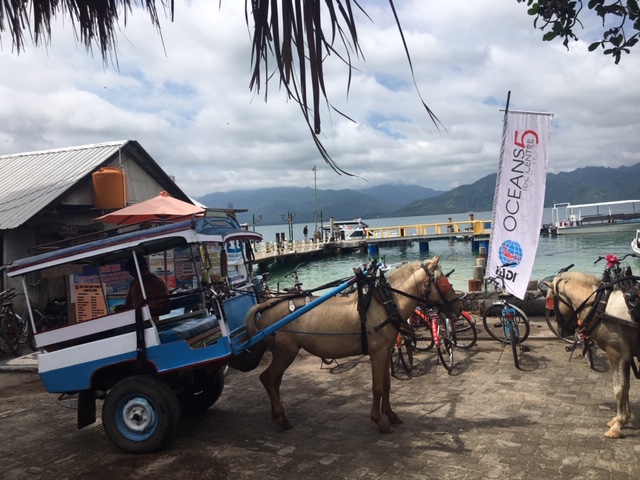 Lilith's attitude is always the same when we arrive at a new place. She's curious, she'd like a snack, and she's generally unimpressed. She's shocked by nothing at this point, and I Love her for it. I had run out of data on my phone, but I remembered the name of our hotel, and its general direction, so we headed 'that way'. My load was light, and this island is notoriously small, so I wasn't too worried. I had one big backpack on my back, and Lilith's little Unicorn backpack on my front. 
I want to stop and say something about this Unicorn backpack. 
It's my purse. I don't have a grown-up purse, so I usually pack the Unicorn so full that Lilith doesn't ever want to carry it. I take this Unicorn to the grocery store with me, to tea with friends, smoking hookah at the bar, riding around on my motorbike… it's my purse. Even when Lilith is at school. The backpack is mine. I'm the 40 year old with a little Unicorn backpack. And it's just been that way for so long that it's not even weird anymore (to me anyway).
That's all. 
We wander down the main sandy roads, which have no names and no real method to their madness. Every building is made of crumbling white concrete and the jungle is blooming in all the cracks. Lilith is scanning each little shop for one thing: popsicles. I am looking for a bike with a child's seat on the back. She wins, and for the moment, I guess I do too. After we acquire some sticky fingers, the shop owner points us down a quieter side-road, hopefully towards our hotel. 
There are chickens and cats everywhere. In Hindu Bali, there are dogs. Everywhere else in Indonesia, cats. Muslims don't like dogs for whatever reason, so they don't have them. I can relate to that. For the 4 days of this island adventure, I am grateful for it. 
After a few minutes, I spot a little hole in the wall with a bunch of bikes, one of which has an infant seat on the back. I'm pretty sure I can squeeze Lilith's little bum in there, so we take it. The gears are rusted shut and the breaks sound like I'm crushing screeching bats with them, but it's $1/day, so we're happy. The roads look like you'd expect from a third-world, tropical island prone to earthquakes and tsunamis. Riding a rickety bike over all the cracks, potholes, and pools of muddy water with a small child on the back and a huge backpack balanced on the front basket was a challenge, to say the least, albeit a hilarious one. We found our hotel without much drama. Our hotel was incredibly lovely, but we came for the company and the beach. One of the main purposes of this trip was to spend some quality time with some dear friends who are wrapping up their time in Bali. I also wanted to take Lilith snorkeling. I had heard that the Gili islands had some of the best snorkeling in the world, so as soon as I decided to join our friends on Gili Air, I bought Lilith a snorkel and mask. We're in the pool almost daily. It's obviously much easier to grab rocks off the bottom of the pool with a snorkel mask, so it was easy getting her comfortable diving in gear. She's a natural free-diver. So much so, she sometimes insists on wearing her mask out to dinner. She's just passionate like that. Her own little fabulous weirdo. I couldn't wait to watch her freak out in the ocean. I planned on waking early, and getting in first thing.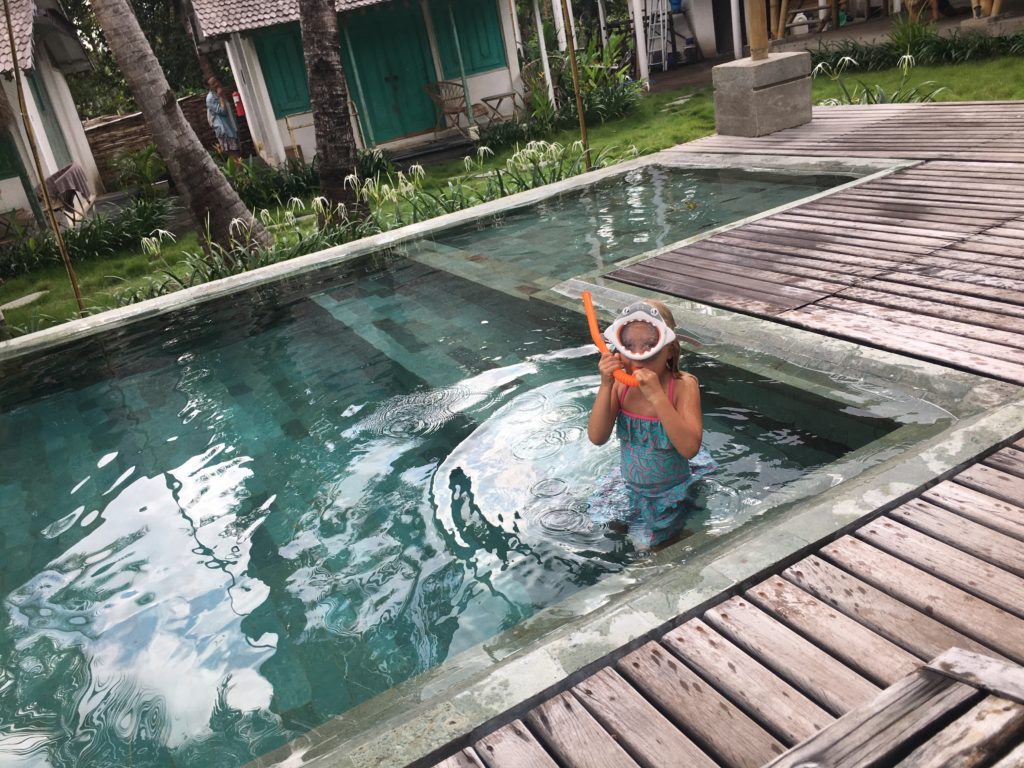 Bali is Hindu. The rest of Indonesia is Muslim. Gili Air is a tiny island, but it hosts a mosque. And every morning, before sunrise, there is a long, very loud prayer blasted for all to hear by a powerful sound system which points towards Mecca… which, incidentally, also ends up being the exact direction of my hotel room. Lilith can sleep through anything, but not many moms can say the same. I guess I needed to make my own prayers, so I bowed to my yoga mat until breakfast time. After gluten-free pancakes and oatmeal, we headed towards the ocean. 
Up until this point, I've been largely unimpressed by the beaches here. Sure, the sand is white, but it's also full of debris. Dead coral, wood, and a lot of trash. It's a far cry from a soft, sandy beach. It's complicated, which is not my favorite flavor of beach… because I'm admittedly a beach brat. On the west side of the island, at high tide, the ocean kind of crushes into a concrete wall, which doesn't lend well to coaxing children into the surf. However, when the tide goes down, it is relatively easy to wade into the water and start floating out.
We arrived at high tide, of course, so we naturally started with cocktails… which is almost always a good idea when dealing with children during happy hour. The kids ate while we laughed, and the tide receded. When we were done with lunch, we got some life vests on the kids, and plopped them in the ocean. * Just so you know, dear reader, I use the word 'plopped' fully intentionally. The night before, our friend had gone swimming and had stepped on a sea urchin. I watched in horror as she bravely endured some locals pounding on her foot with a rock, trying to get the pieces of urchin lodged in her foot to crumble inside her as much as possible… to heal as fast as possible… because that's how it's done (#cringe). We didn't have water shoes or fins for our girls, so in order to keep them from touching the potentially dangerous ocean floor, we 'plopped' them in and pushed them out to sea.
It took us some time swimming away from the shore before the visibility cleared. There had been a storm just before we arrived, so we weren't expecting much, but when the sand did settle… Whoa. Bright blue colored fish swirled close to our faces, angel fish, parrot fish, iridescent rainbow fish, clown fish… But the most exciting thing was the Lilith-fish, kicking and shrieking at me through her snorkel, pointing at everything, beyond giddy. Seeing her like that was definitely one of my all-time parenting highs. Eventually, she calmed down a bit and just floated in wonder. My daughter is high-strung. She doesn't 'float in wonder'… but she did. And then… we saw a turtle. A big grandmother, slowly swimming by. Lilith just looked at me, like… "WTF??? Is this real?" We watched her swim slowly by us, and I was done. I mean, I stayed in the water for another hour I think, but I was so full, I could've been done. This is what it's all about for me. Showing my kid the world, teaching her when she needs me, but mostly trusting her to learn and experience at her own pace. This was an incredible experience I'll remember for the rest of my life. She might forget it, but I won't. The rest of the trip was full of lightning, crazy storms, laughter, new friends, fort-building, story-telling, good food, bad food, weird wanders about the weird paths of this weird island. When the time came to go, I was neither relieved nor hesitant. Our ferry pulled up to the beach, we boarded and made it back to Bali with relatively calm seas. We said some sad good-byes to our friends amid the chaos of yelling taxi drivers, eager to usher all the herds of lost foreigners into their shuttles. On the 1 hour drive back home, I gave thanks for all things Bali. The quiet mornings, the temples, colorful offerings everywhere, crazy drivers… even the dogs. Even the dogs I am grateful for.